I fell so much in love with Santa Fe, New Mexico I moved there for several years. After I moved away, I visited often. This historic city is not on the way to anywhere, unless you're on a road trip of the desert southwest, but it is definitely worth planning a trip and spending a week there. Living and visiting, I've had the privilege of gathering my favorite activities and restaurants.
Santa Fe has the feel of the American Old West, as well as that of Spain. The homes have flat roofs and thick walls made of adobe, mud mixed with hay. The roofs are supported by logs or beams called vigas. Many are furnished with imported antique Spanish doors and wooden furniture, with Native American woven rugs on the tile floors. While rustic (homes on dirt roads have a higher sales price than those on paved streets), the city is considered high-tech, as many residents are scientists at Los Alamos National Labs; and there are think tanks galore. It is also a major center for music, art and food, all influenced by the diversity of Mexican and Spanish descendants, as well as that of Pueblo peoples (various Native American 'tribes' that have lived in the southwest for centuries).
Santa Fe, which translates to 'holy faith' in Spanish, was founded in 1610. The San Miguel Church, built at that time, is the oldest church in the United States. The city originated on the site of old Pueblo villages at the foot of the Sangre de Cristo Mountains. At 7,000 feet above sea level, the Santa Fe is one of the highest cities in the nation. It is the oldest capital city and the second-oldest surviving city founded by European colonists in the US (25 years before Plymouth Rock). Santa Fe was the seat of power for the Spanish Empire in North America and is now the capital of the state of New Mexico.
During the 1800s, Santa Fe became a trade center on the famous Santa Fe Trail. Additionally, the El Camino Real de Tierra Adentro National Historic Trail was the primary route between the colonial Spanish capital of Mexico City and some Spanish provincial capitals.
Now that you know how special this city is, what do I recommend you experience if you have 5 to 7 days in Northern New Mexico?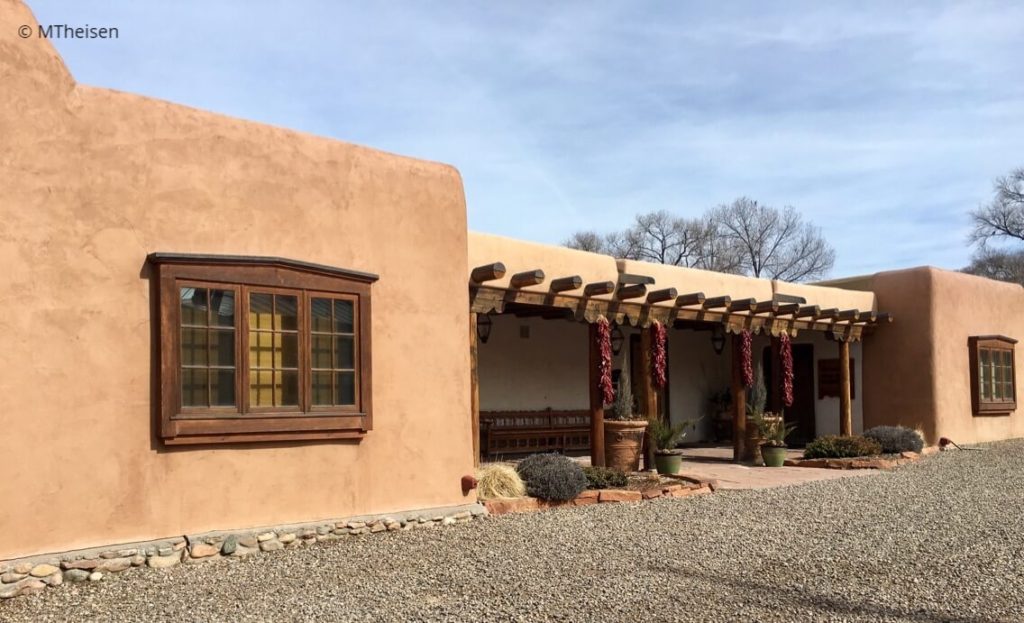 What are my Must-Do's and Must-Eats?
1. The Santa Fe Plaza is, thankfully, unavoidable! You will find yourself in the center of town, listening to live music, wandering the booths of Native American jewelers and artisans, eating Mexican food and enjoying Margaritas, and shopping the stores, boutiques and art galleries. A National Historic Landmark listed on the National Register of Historic Places, the Plaza has long served as the city's gathering place for festivals, fiestas, Indian Market, Spanish Market and a host of other events, including the annual 4th of July Pancakes on the Plaza celebration. All summer long, the bandstand hosts regular concerts and other exciting performances. This is the place to buy authentic pottery, fetishes (carved animals that imbue the owner with the qualities of that animal), jewelry and kachinas (carved figures that represent dancers and mythic figures). Much of my personal collection has come from this area.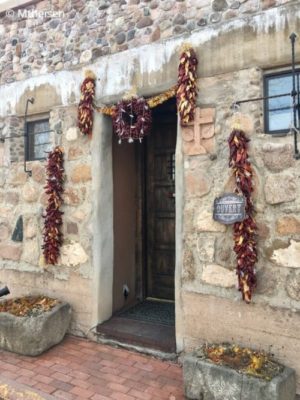 2. The Sangre de Cristo Mountains offer stunning views of the mountains, valleys, and desert for dozens of miles. While most of my time has been spent hiking, people enjoy activities such as climbing, skiing, mountain-biking, and other sports. If time is limited, treat yourself to a scenic drive.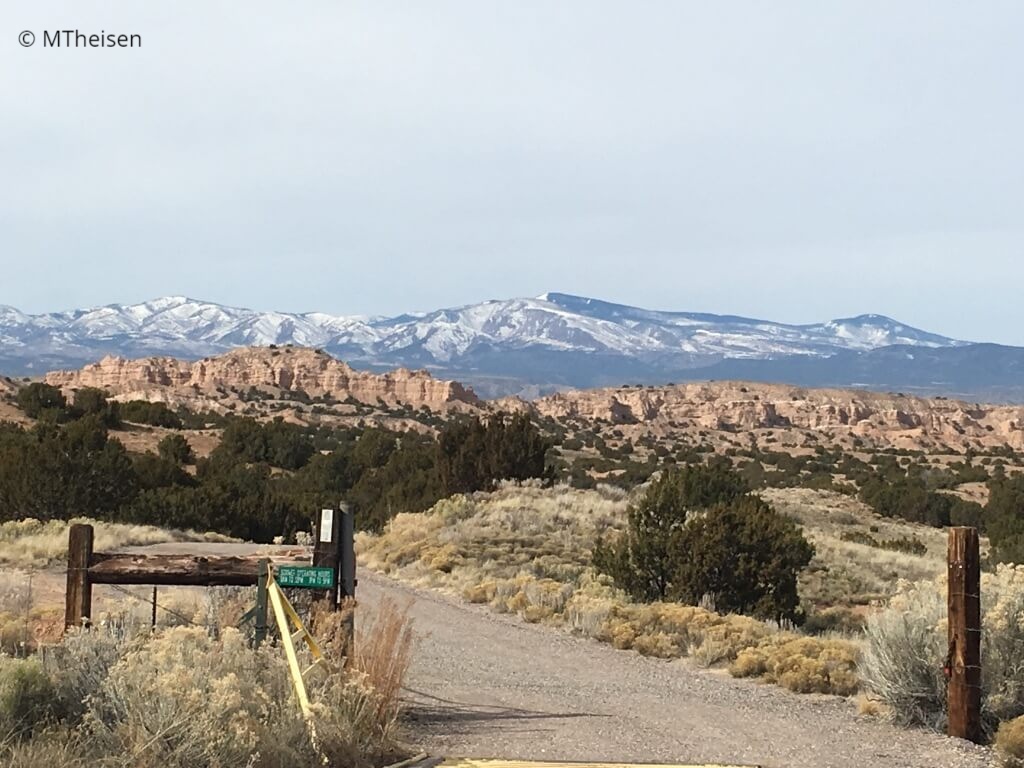 3. Ten Thousand Waves. I can't get enough of this place! Modeled after Japanese mountain hot springs resorts, Ten Thousand Waves is the place to pamper yourself. Soak in a private outdoor jacuzzi, surrounded by juniper and piñon trees, watching the steam rising as the birds chirp and sing. Be sure to book a tub that has a waterfall, sauna and steam room. The staff will wrap up your champagne bottle for you if you bring a gourmet picnic. Once you're thoroughly relaxed, enjoy a massage, scrub, facial or body wrap. My favorite treatment is the Watsu, where both the massage therapist and I wear swimsuits in a warm tub and I am swirled and massaged in the most blissfully womb-like nurturing experience ever! If funds are limited, at least visit the community hot tub (men and women) or the women-only tub. Discounts are offered to those with a valid New Mexico driver's license. There are also overnight accommodations if you prefer to stay at the spa. https://tenthousandwaves.com/spa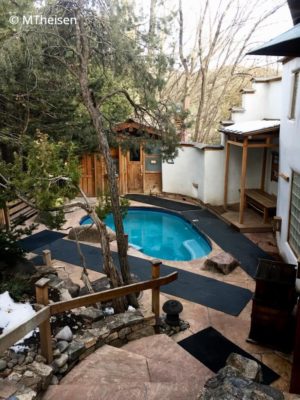 4. Santa Fe Opera. I never would have gone to the opera if I hadn't had friends who worked at the opera, but I'm so glad I did. The opera tour is fascinating with underground staging and sets, world class costumers and wig makers, and technically superior seating with surround sound and video screens, complete with subtitles in many languages. I became a lover of opera by attending several performances there. The cast is recruited from Paris, New York, and other famous venues during their off-season, resulting in some of the best performances you will ever witness. Make a picnic and join those enjoying tailgating with dinner and wine in the parking lot. If you can't afford a seat, buy standing room tickets and move into an empty seat later on. It's a fantastic experience to watch the sun setting over the red rocks as you absorb the incredible music of the orchestra and the voices of the cast! https://www.santafeopera.org
5. Canyon Road is Santa Fe's historic art district, with over 80 galleries featuring traditional, western and modern art, antiques and restaurants. I once bumped into Arnold Schwarzenegger and Maria Shriver antique shopping. El Farol restaurant is Santa Fe's oldest restaurant and until recently still had dirt floors. In addition to authentic Spanish food and drink, they offer weekly flamenco shows. https://www.visitcanyonroad.com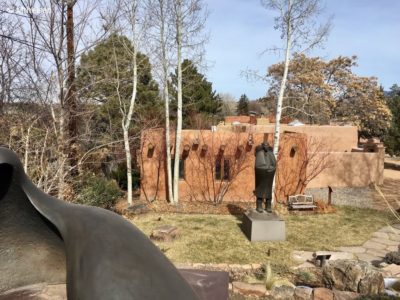 6. Museums. While all the museums are world-class—International Folk Art, IAIA Museum of Contemporary Arts, El Museo Cultural (Hispanic Arts Museum), New Mexico History Museum, and Palace of the Governors Museum, my favorite is the Georgia O'Keeffe Museum. In addition to the permanent collection of drawings, paintings and sculpture from throughout Ms. O'Keeffe's career, there are temporary exhibits as well; so, I've visited several times. Even those familiar with her art will be surprised at how prolific and varied her skills were–sketches, paintings, sculpture, photography. I admire not only O'Keeffe's talent, but her pioneering spirit, living in the wilds of New Mexico from the 1920's and after; and eventually traveling to Hawaii, Peru, and Japan.. In addition to her art, there are photos, archives, and her library. This small museum takes a couple hours to see, so there will be time to visit some of the others listed here. They're all fabulous! https://www.okeeffemuseum.org/visit
7. Meow Wolf is an indescribable experience. It looks like a funhouse of crazy passageways to alternate realities, but turns out to be much more. You can explore the 20,000 sq. ft. space—crawling, sliding, walking, climbing through refrigerators, fireplaces and catwalks. Or if you're prepared to solve a mystery, download the app and look for clues to what happened to the Selig family. How did time and space collapse? And what is this multi-verse? I went with others, and we split up immediately: The more playful, explored and played with the interactive elements; and the more cerebral hunted down clues. Whether you're alone or in a group, you'll enjoy it. Plan a few hours to really explore! This George R. R. Martin (Game of Thrones) inspired venue is such a success, more are being planned for Denver and Las Vegas. https://meowwolf.com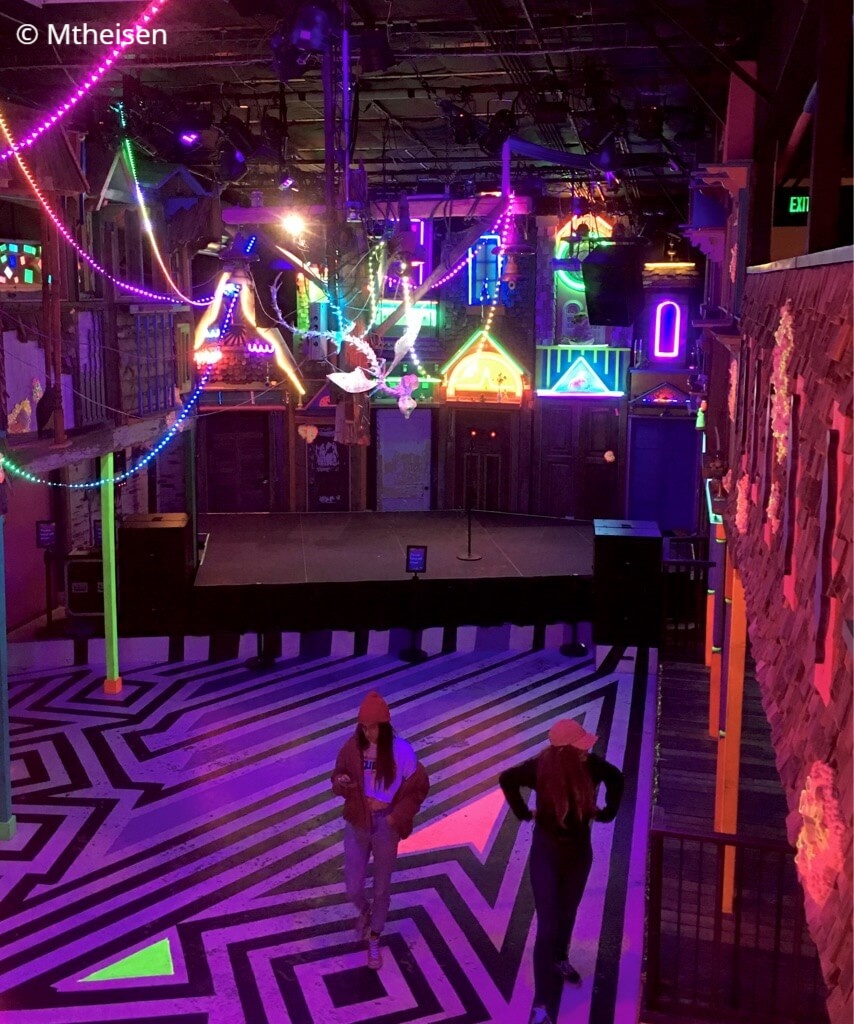 8. Bandelier National Monument is one of my favorite Native American sites ever! I've probably been there a dozen times. Located about an hour from both Albuquerque and Santa Fe, near Los Alamos Laboratories (worth a visit to those interested in Oppenheimer and the development of the atomic bomb), wander this park of 33,000 acres of canyons and mesas. Human presence goes back 11,000 years, and I found it fascinating to wander the lower town of hewn rock ruins, as well as climbing the lashed ladders up the canyon walls to the chiseled upper town and ceremonial kiva above. You may feel an intimate connection to the ancient Anasazi, predecessors of today's Pueblo tribes, as you see the animal, human and celestial petroglyphs they carved hundreds of years ago. My favorite time to go is in autumn, when the leaves crunch under my feet and the crisp mountain air makes me feel like an early explorer. Start at the Visitor's Center and watch the short film, in order to learn what what you're looking for when you walk the various areas.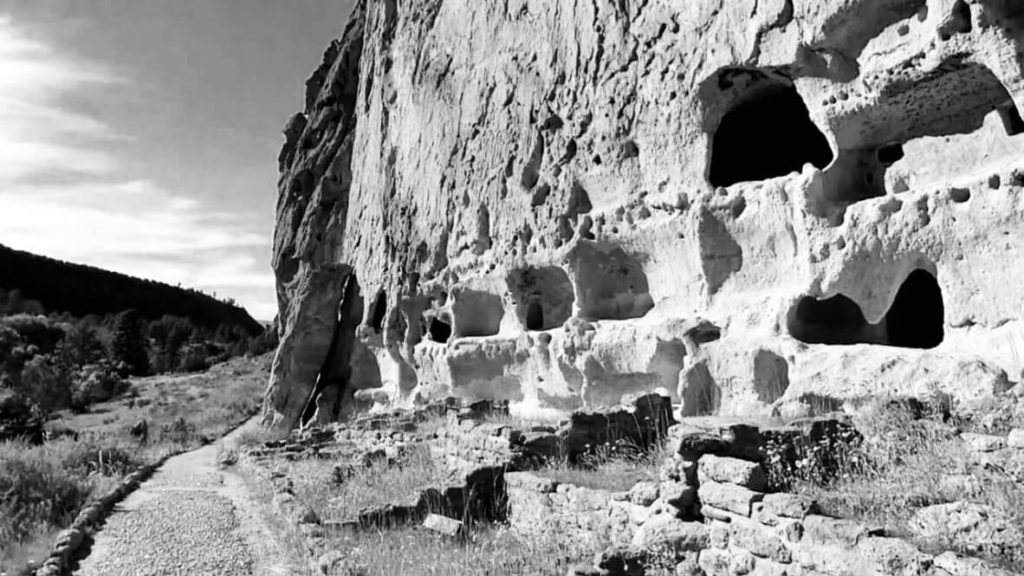 9. Taos Pueblo and the Taos Gorge Bridge. Many of the northern Pueblos are located nearby and all are worth visiting, especially during their feast days (https://www.newmexico.org/events/native-american/feast-days). But Taos Pueblo, near Taos, NM, gives a true sense of what life has been like for indigenous peoples for hundreds of years. Considered to be one of the oldest continuously inhabited communities in the US, it was designated a National Historic Landmark in 1960 and a UNESCO World Heritage Site in 1992. This multi-storied adobe complex was built between 1000 and 1450 AD on 95,000 acres along the Rio Pueblo or Red Willow Creek. With Taos Mountain as a backdrop it is quite dramatic. The history of the original mission church which was destroyed in 1660 and later rebuilt, is quite interesting. Nearby the Taos River Gorge is spanned by the 5th highest bridge (650 ft or 200m) in the US. https://taos.org/what-to-do/landmark-sites/rio-grande-gorge-bridge/. The views of the gorge river, and surrounding high desert are expansive, but the hotlines for possible suicide jumpers is sobering. When in the town of Taos, sneak a peak at the Forbidden Art Collection hidden in the Hotel La Fonda de Taos. Erotic paintings by the famous author D H Lawrence were confiscated by London police in 1929, banned as obscene. They were allowed to be taken from the England with the promise they would never return. Mr. Lawrence's art was obtained by a prominent collector in Taos, where the author also resided for two years. Did I take pictures? Yes, but you can see them on the hotel's website. https://www.lafondataos.com/activity/d-h-lawrence-forbidden-art/ If you want to try some tasty Pueblo style Native American food, go to Tiwa Kitchen and try Red Chile Stew, Blue Corn Tacos, or Bison with Squash, Corn and Beans. https://www.tiwakitchen.com/index.html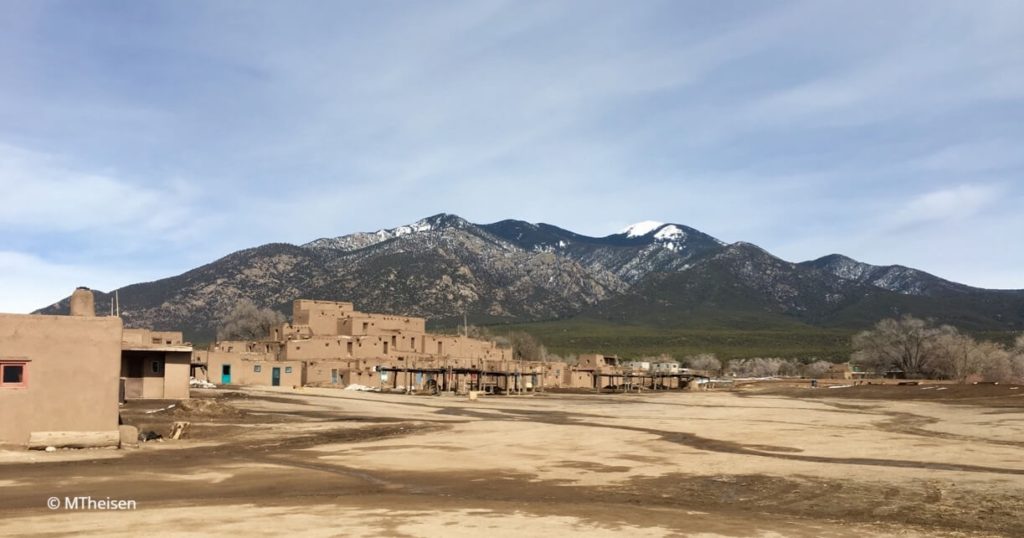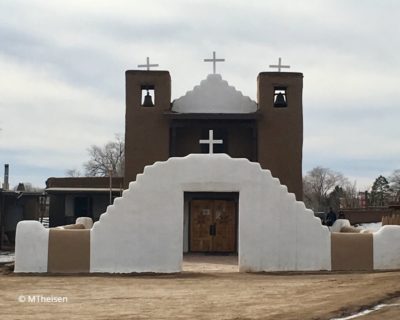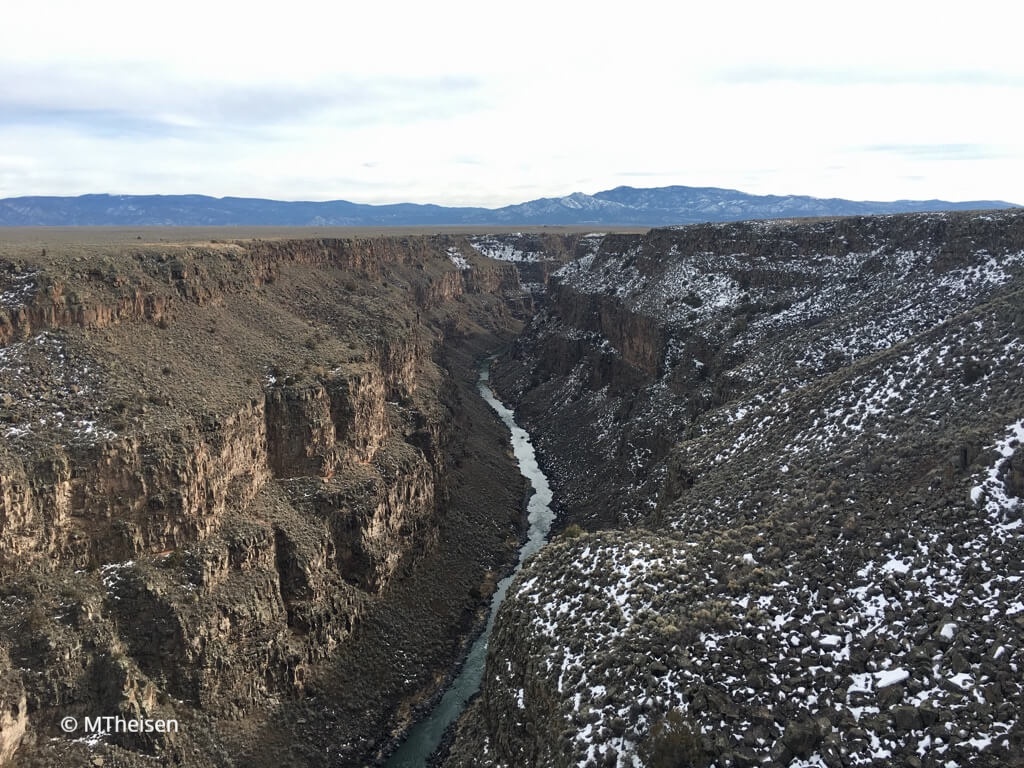 10, Loretto Chapel. While there are many Spanish cathedrals and churches throughout the region, the one that I prefer is the quaint and mysterious Loretto Chapel. This Roman Catholic Church was commissioned by the Sisters of Loretto for their girls' school, Loretto Academy, in 1873. Its Gothic Revival style features spires, flying buttresses, and French stained glass windows. But what its famous for is its curious spiral staircase. According to legend, St. Joseph either appeared, or sent an enigmatic carpenter, to build a free standing wood staircase with no central or side supports, central pole or nails. Held together with pegs, it is quite impressive. According to a Washington Post column by Tim Carter, "It's a magnificent work of art that humbles me as a master carpenter. To create a staircase like this using modern tools would be a feat. It's mind-boggling to think about constructing such a marvel with crude hand tools, no electricity and minimal resources." https://www.historicmysteries.com/loretto-chapel-staircase/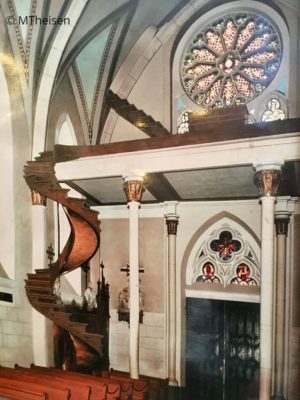 11. El Santuario de Chimayó is a Catholic Church in the town of Chimayó. It is a national historic landmark and may be the most important pilgrimage center in the US, sometimes called the 'Lourdes of America'. The church, with its 3 foot thick (1 m) walls, is centered in a courtyard and features dual bell towers. It is famous for miraculous healings, and holy dirt (Tierra bendita), believed to have spiritual powers. A small room called el pocito (the little well) contains a round pit where pilgrims gather the dirt, which is brought in from nearby hills daily. An adjacent Prayer Room displays prayer offerings, photographs, discarded crutches, and other testimonials of those purportedly healed. Every Easter season, hundreds walk from as far away as Albuquerque, some carrying crosses, in demonstration of their faith. Nearby, Santo Niño Chapel, a church dedicated to children, features the shoes hundreds of children and babies who received healing, as well as written prayer requests for children in need of miracles. The church is decorated with birdcages and other youth oriented art. The history of the church and region is fascinating: https://www.nps.gov/nr/travel/american_latino_heritage/El_Santuario_de_Chimayo.htm
12. New Mexican Food. It isn't Spanish, nor Mexican, but a unique combination of flavors that are among the most flavorful on this planet! In addition to El Farol, mentioned above, here are a few of my favorites: Maria's Kitchen has incredible red and green chile ( get an enchilada and a chil relleno smothered in both red and green) along with a menu of hundreds of tequilas and margaritas. Gabriel's, has the most sumptuous table-side guacamole and Mexican seafood ever. Cafe Pasqual has a creative menu of fresh, organic, naturally raised foods. The Plaza Cafe, also billed as Santa Fe's oldest restaurant, has been serving highly acclaimed, authentic traditional dishes since 1905. For Chocoholics like me, Kakawa Chocolate House features artisanal chocolates and historic Mayan and Aztec chocolate drinking elixirs. I once asked a friend who was traveling to bring me 6 bags of drinking elixir mixes, and she had finished them ALL before she arrived back home empty-handed.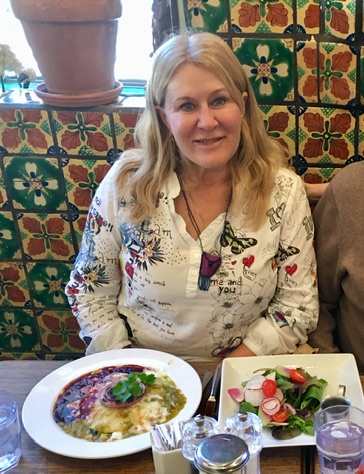 I hope you enjoy this city as much as I do. Please comment with your favorites! And visit my website https://mbsworld.online