"There's one!" I'm bursting with excitement. "There's another one," I exclaim as we approach the 'Stone Forest,' dozens of vertical rocks, each as tall as a small mountain.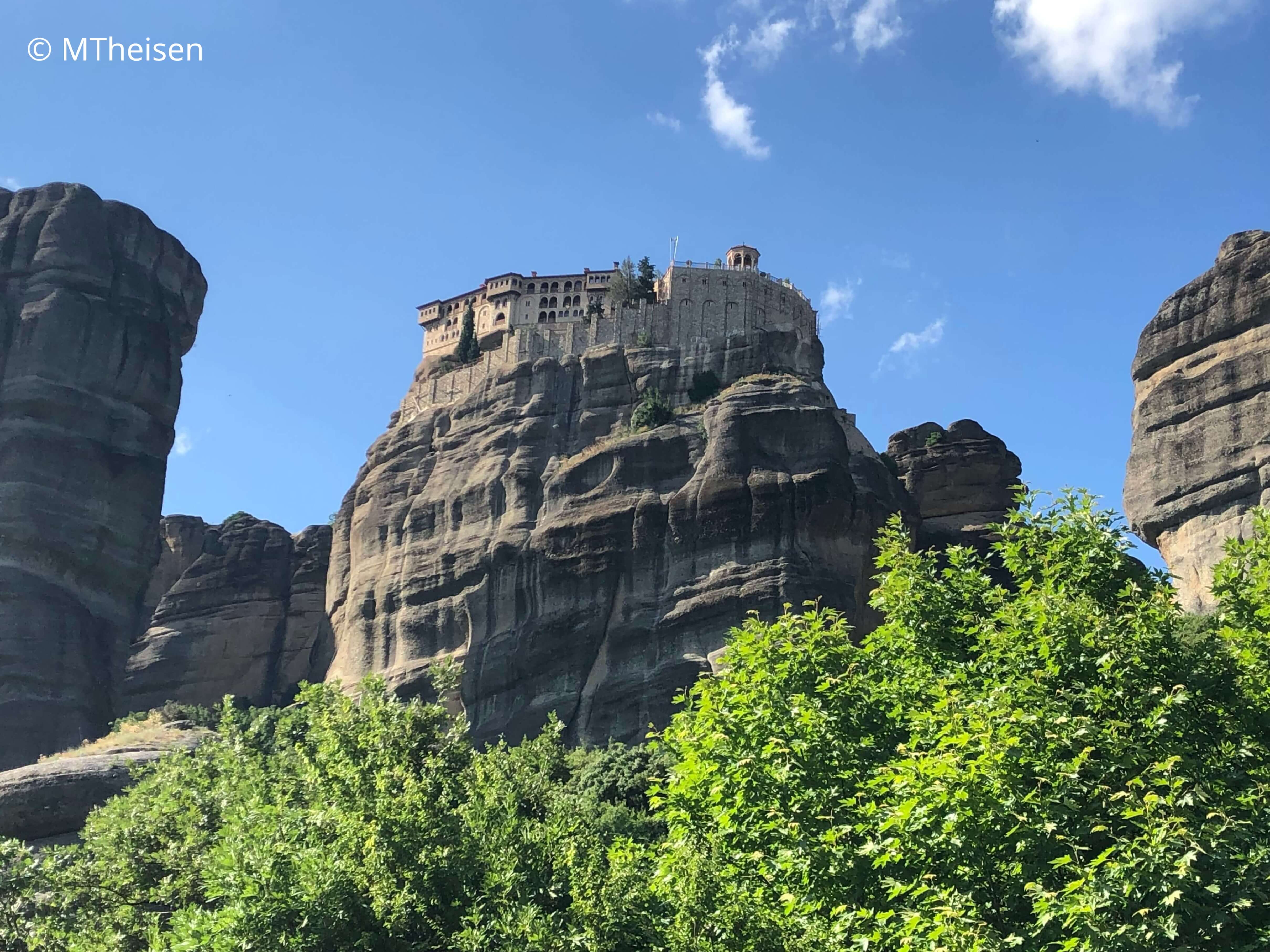 As we get closer, I can begin to make out the Orthodox monasteries atop several of these pinnacles. From photos I thought there were maybe 3 or 4 of these, but I later discover that 24 were built, some of them inside caves. Hermits started moving into the caves in the 9th century, and in the 1300's the first formal monastery was built.
Allan's tired from the drive and it's hot from the African winds blowing north–44C/118F, so he lies down for a nap. I take the car from our hotel in Kalambaka, and drive to the top of the road–a couple of the monasteries are reachable this way. The late afternoon sun has lit these architectural wonders so that they gleam atop the gray formations.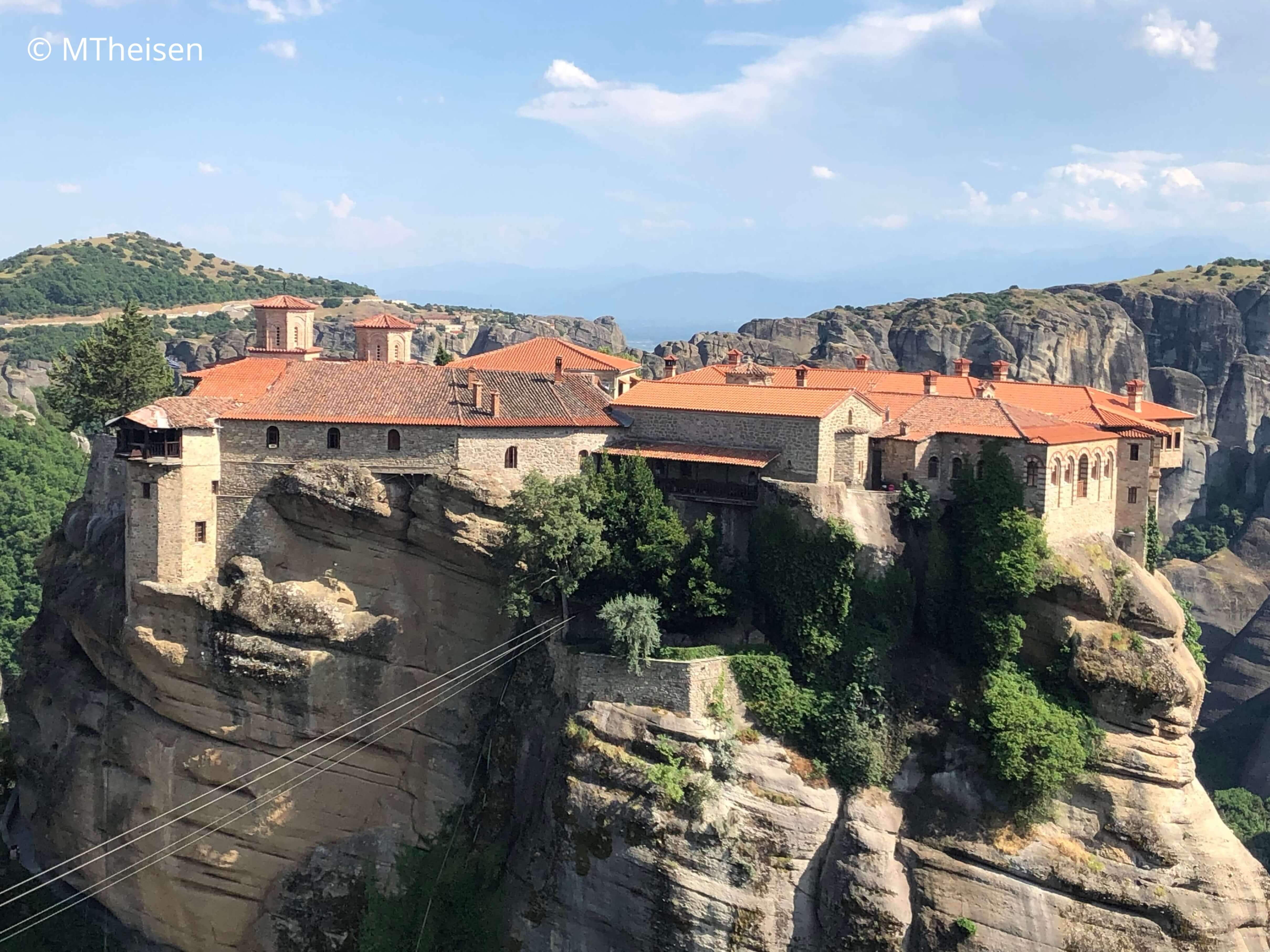 Questions arise about who these monks were, and how they got building supplies and later food and furnishings, up these forbidding precipices. I climb around, exploring and taking photos, saving my questions for tomorrow's tour.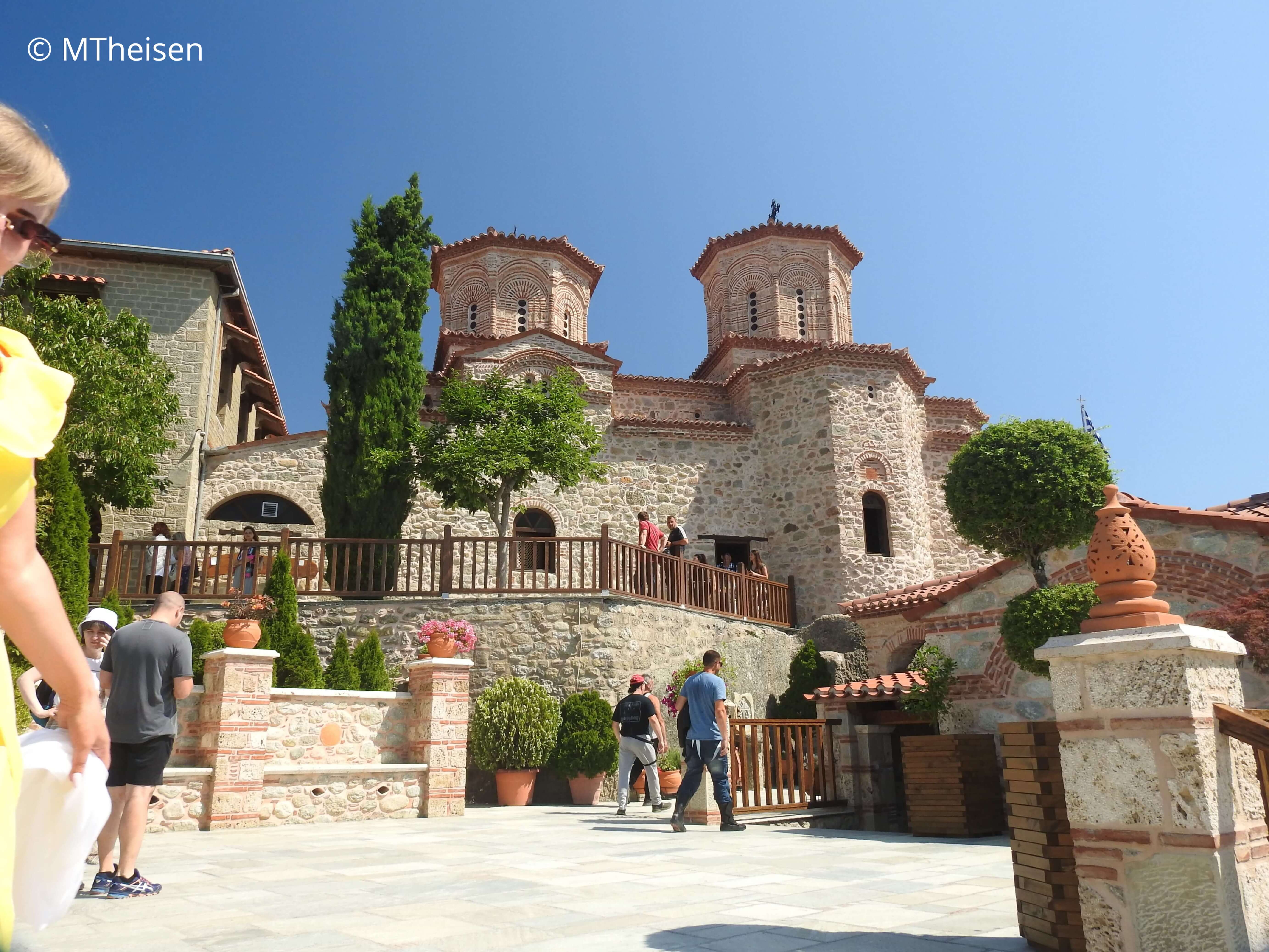 We usually prefer to do our own thing, but with only a one night stay, I wanted to experience as much as possible.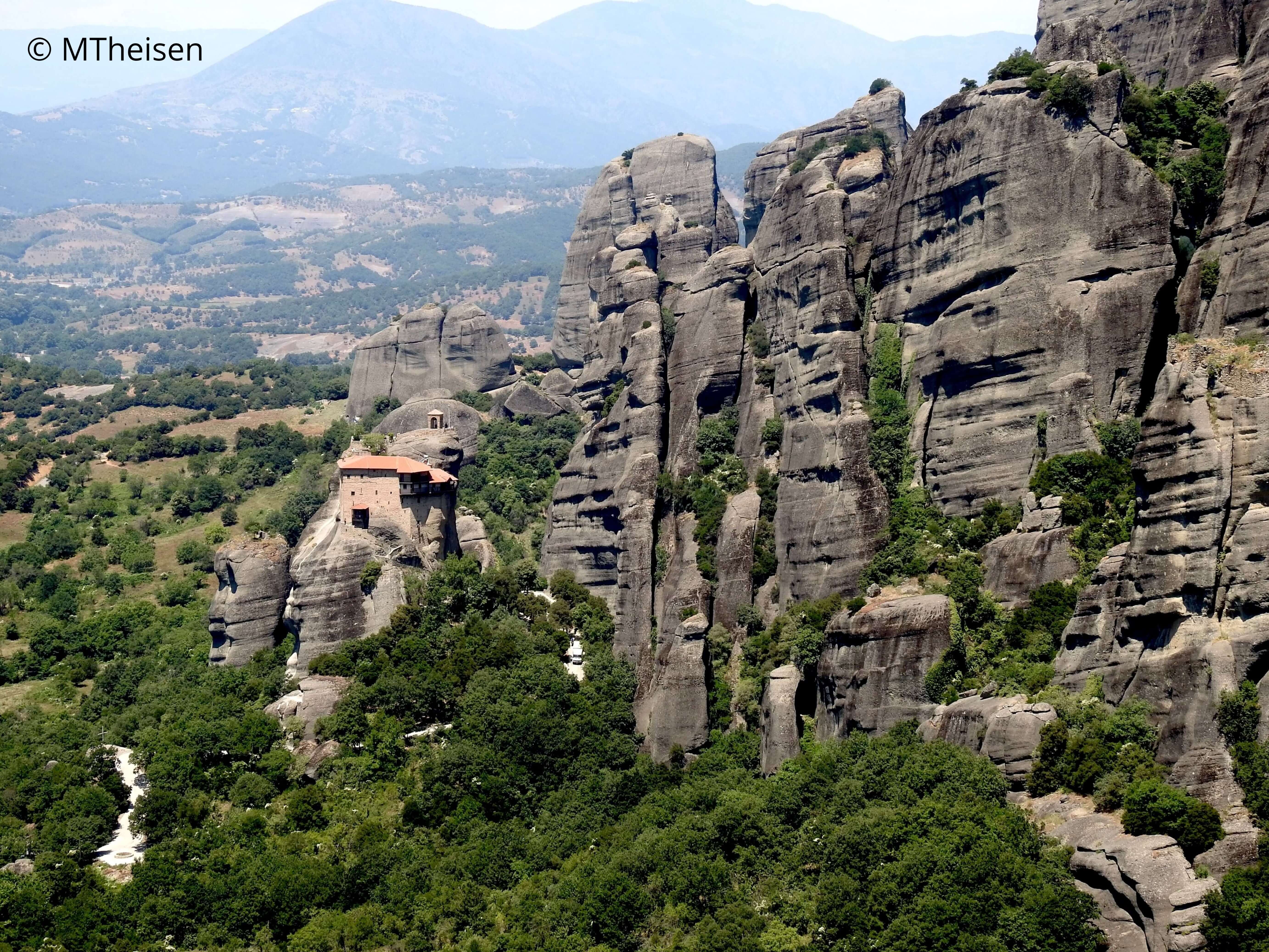 Thank goodness we did. Not only is it hotter than Hades (the Greek god of the underworld; we are in Greece after all!), but we have to climb hundreds of steps to visit each of the 3 monasteries we get to tour. Thankfully, the bus goes right to the entrance, not in the parking lots hundreds of meters away, saving a few sweltering steps.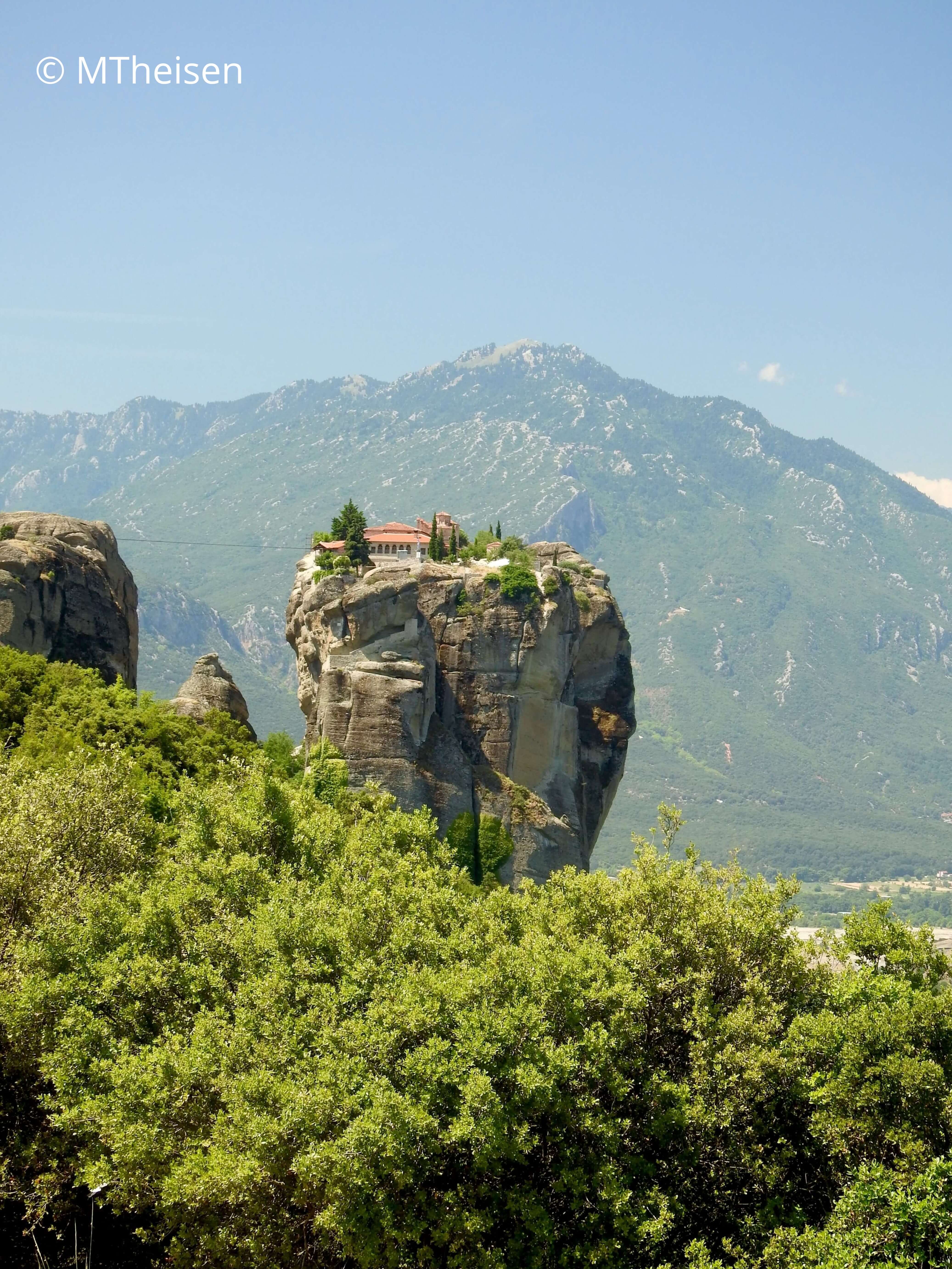 We learn that 6 of the 24 monasteries are still inhabited by monks or nuns, who sell souvenirs, wine, jams, and honey to supplement their income. In the early days, ladders were built to climb the pinnacles, or visitors and supplies were hauled up in nets via a rope and pulley, only replaced when one broke (you can imagine the outcome for what was being hauled up). The stairs were only added to a handful of them in the 1920's. The others, in ruin, challenge hikers and rock climbers to visit.
Each monastery has beautiful gardens, a chapel painted brightly with Byzantine saints, kitchen, dining, and sleeping quarters. They're actually quite spacious!
The name, Meteora, has several translations, but the idea is that these architectural wonders are suspended between the earth and sky. Some interpret that they are floating, others that they exist in a spiritual dimension, and there are other perspectives.
The stone spires aren't volcanic, as I had assumed. They were formed in a lake 60 million years ago, as the ground was pushed up and fault lines began to weather away. It's a very unusual geological wonder. Between Mother Nature's miraculous creation, and that of determined spiritual seekers who built on two dozen of the rocks, I see this place as a Medieval Macchu Pichu.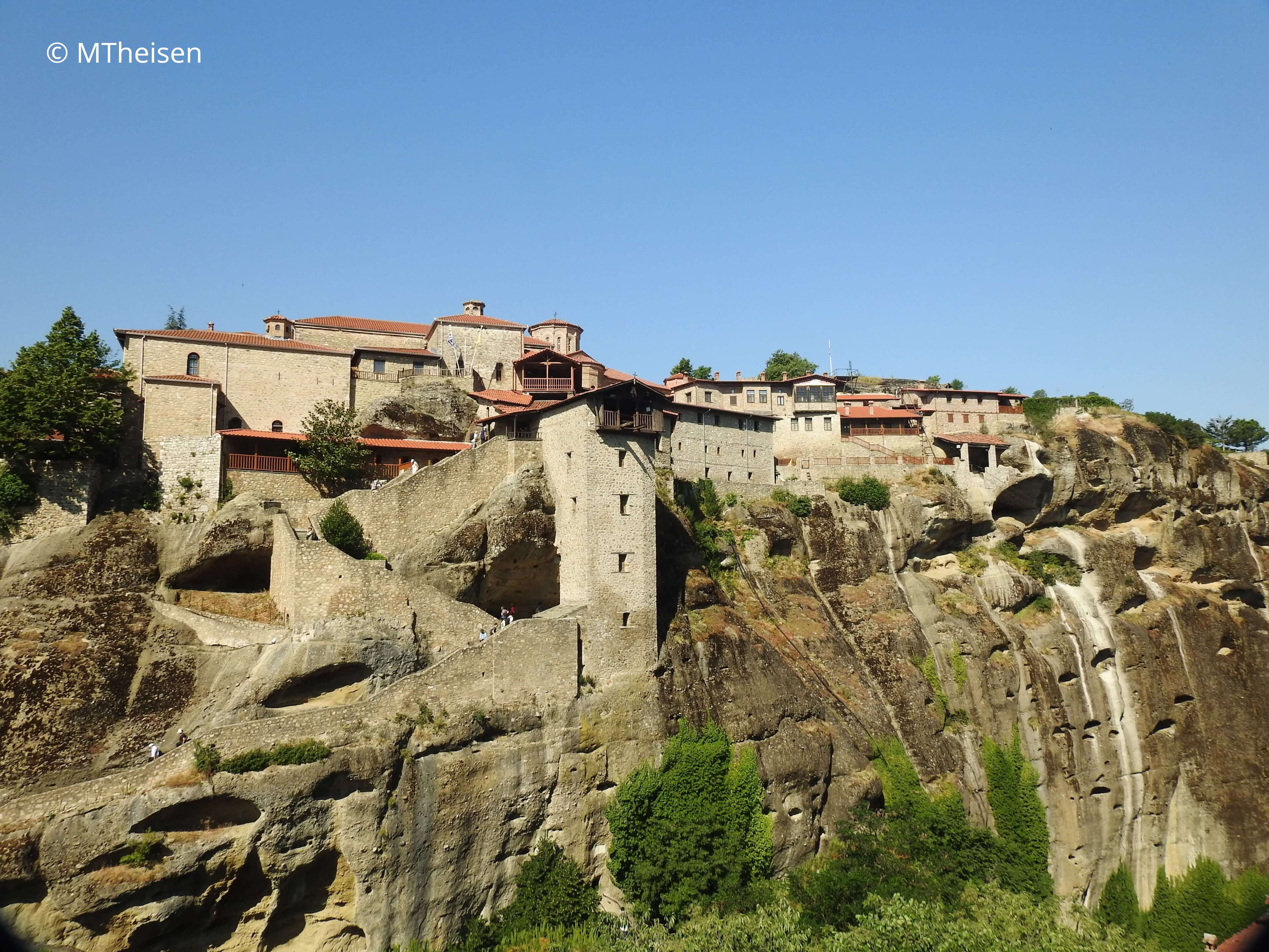 We saw scarves and flags flapping inside a cave above Kastraki, one of a couple of villages spread out below the Stone Forest. Every year after Easter, the day of the celebration of St. George, villagers climb to the cave via rocks, to take down last years scarves and replace with new ones. Then there's a feast with dancing and singing in the village. According to legend, during the Ottoman occupation, a Muslim woman prayed to St. George to heal her injured husband, leaving her most prized possession, her hijab. He was healed, and now villagers repeat the tradition, offering scarves with prayers, and saving the old ones as talismans.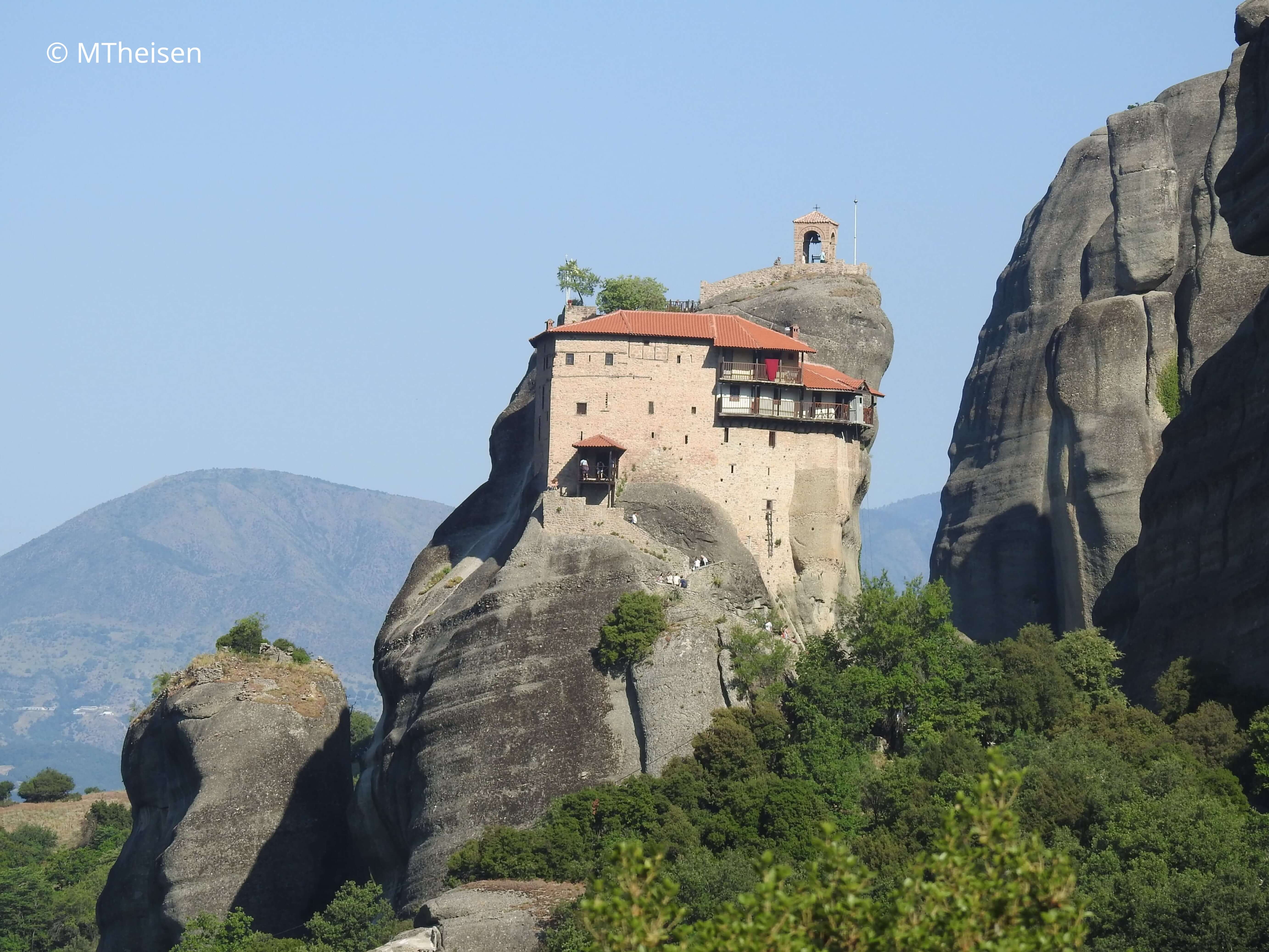 What an amazing faith and fortitude these people had, and I guess they still do to live this way for 700 years. When you go, I'd recommend cool weather; if you go in October there will be fewer people and more comfortable weather. If you're an adventurer, stay a few days to climb and hike. If you're older or your time is limited, take a half day tour to see and do the most in a short time.